Corporate Credibility Communications
Communicate authentically and credibly as a company. Achieve your goals, develop and protect your reputation.
Your corporate communications determine how you are seen and evaluated – by customers, suppliers, employees, investors and the social environment in which you work. Corporate communication thus also determines your success tomorrow. Building reputation and prestige takes a long time. And maintaining credibility even in a crisis requires good preparation. That's why you shouldn't leave anything to chance.
SpiessConsult supports you in the analysis, development, maintenance and promotion of a positive corporate reputation with regard to customers, employees, other stakeholders and the public.
How is Corporate Communications defined? What does it include?
The term Corporate Communication describes first of all the entire corporate communication – both internal and external. In contrast to "internal communication" and "employee communication", here we concentrate on the outward communication policy, i.e. marketing communication as part of the classic marketing mix (alongside "product", "price" and "distribution").
Marketing communication is divided into "above-the-line" communication and "below-the-line" communication according to traditional definitions. "Above-the-line" refers to classical advertising. "Below-the-line" stands for all other forms of communication:
Promotions and sales promotions,
Public relations work, i.e. public relations activities (PR) towards all stakeholders as well as press work specifically for journalists and opinion leaders in the media,
interactive formats such as events, trade fairs and congresses, and
Dialogue communication via social media platforms and channels
The perception of a company is strongly influenced by its communication, i.e. how a company successfully presents itself as a business partner, as an innovator, as an employer, as part of society.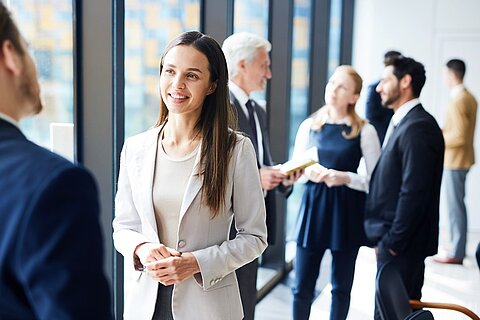 ---
Why Corporate Communication is of central importance for companies
Proactive corporate communication minimizes risks and opens up opportunities. Why is that? A positive corporate reputation is shaped above all by the dimensions of credibility, reliability, trustworthiness and responsibility.
At the same time, companies have less influence on how their reputation develops. In the past it was mostly police investigators or journalists who brought scandals to light. Today, scandals mostly take their way through social networks. Negative opinions (keyword "Shitstorm") and fake news – wether justified or unjustified – can be spread rapidly via the Internet and social media and turned into media events, so that a good reputation built up over years can be ruined within a very short time.
And the topic is becoming more and more important for companies. According to the "risk barometer" published annually by the Allianz insurance group, every eighth company is currently afraid of scandals and the associated damage to its reputation. In the meantime, insurers are even offering a new product, a shitstorm insurance. It is intended to compensate for losses in sales suffered by companies as a result of crises that damage their reputation.
The task of corporate communications – and in particular reputation management as part of it – is therefore to
Quickly identify both opportunities and threats from public opinion,
Improve corporate perception through facts and neutral, credible viewpoints,
to build up a counterweight for possible crises and negative media events,
to initiate corresponding communication measures and
to permanently install suitable instruments in the company.
However, reputation management belongs in professional hands in order to achieve more than just short-term effects and is only successful in the long term with a strategic orientation.
---
Overview of corporate communications topics
Sustainability & ESG
Company reports
---
Checklist Corporate Communications: Which topics and instruments concern corporate communications decision makers?
Communicate strategic planning and management goals
Making corporate management more visible
Improve company appearance / Present my company correctly and better
The successful campaign – from briefing to launch
Communication in company crises / Avoiding Shitstorm / Dealing with negative reporting
Differentiate yourself from the competition / work out unique selling propositions
Initiating change processes / supporting change in the company
Obtain communication consulting / further develop communication strategy / develop communication concept
Improve brand image and brand management
Further develop and standardize corporate identity and corporate design
Develop name and design for new company
Improve PR and press relations / address journalists more specifically
Develop public relations strategy / develop PR concept
Set up Social Media Newsroom
Setting up a PR team / setting up an external press office
Corporate Communications Agency: Which corporate communications agency suits me best / How do I manage agencies?
Agency search and agency selection: What should I look out for?
Agency remuneration: What does good work cost?
Renew website / relaunch website / make website responsive / Responsive Web Design
Develop content for blogs and social media
Storytelling / Develop original content
Disseminate news about products and services
Present new customers and projects
Publication of business figures and financial results
Preparing, accompanying and supporting acquisitions, mergers, takeovers and business field changes communicatively
Improve compliance communication / explain corporate compliance / explain compliance-compatible behavior
Communicate Whistleblower Hotline / Implement Whistleblower Protection Act (HinSchG)
Promoting innovation
Communicating Corporate Social Responsibility (CSR)
Promoting change / change
Support digital transformation
Further develop employer brand / promote employer branding / improve image as an employer
Developing and writing an annual report / Planning the content of an annual report / Finding a specialist agency for annual reports
Write and develop sustainability report / Communicate sustainability issues / Observe GRI guidelines / Find agency for sustainability communication
Observe the German Sustainability Code (DNK) / Implement DNK criteria / Prepare and publish DNK declaration
Implement Corporate Sustainability Reporting Directive (CSRD) / Design and publish sustainability report / CSRD-compliant reporting
---
Which communication measures and channels are particularly important in corporate communication:
Website / Internet page

The central platform for external corporate communications. First point of contact for all stakeholders. This is where all the threads come together.

Social Media Channels / Corporate Blogs

Social media helps companies to enter into dialogue with their target groups directly and in real time. Communication via social media is never risk-free, but it strengthens the relationship, since it is also about proactive communication, but above all about listening and reacting.

Company film or video clips

Very good opportunity to present the company emotionally, multidimensionally, compactly and sympathetically. Can be modularly planned and implemented to take all relevant target groups into account. Can also be found on the website.

Annual report

For public limited companies / listed companies, this is the "flagship" of corporate communications. For many companies, this is the only complex corporate publication that still appears in print. Also available as an electronic version via the website or as a microsite, if necessary abbreviated.

Sustainability report

A central and important strategic element of corporate communication, especially towards investors and potential employees. Today already required by law for capital market-oriented companies with 500 or more employees. The importance of sustainability reporting continues to increase due to the EU-wide Corporate Sustainability Reporting Directive (CSRD).

Press Relations / Social Media Newsroom

Main contact / first point of contact for journalists and other opinion leaders and multipliers.
---
Tips on Corporate Communication
By which factors can you recognize whether your corporate communication is well positioned?
Formulated self-image of the company: the corporate identity
Clearly defined communication strategy coordinated with the company management
Existing framework communication planning for all relevant topics in the fiscal year
Experienced management team with clearly defined responsibilities
Continuously available, quick-witted social media team
Elaborated and stringently applied corporate design
Uniform design appearance in all media and channels
Harmonized, coordinated core statements (corporate wording) on all channels
Question and answer catalogue on all relevant topics
Regular market and opinion research to review the corporate communication and to readjust it
If necessary, support by external experts / specialized service providers / agency for corporate communication / corporate communication
Act. Improve and strengthen your corporate communication.
Do you see any room for improvement in your corporate communications? Does your Corporate Communication have special tasks to master?
We advise you on analysis, strategy, creative design and implementation.
Get in touch now