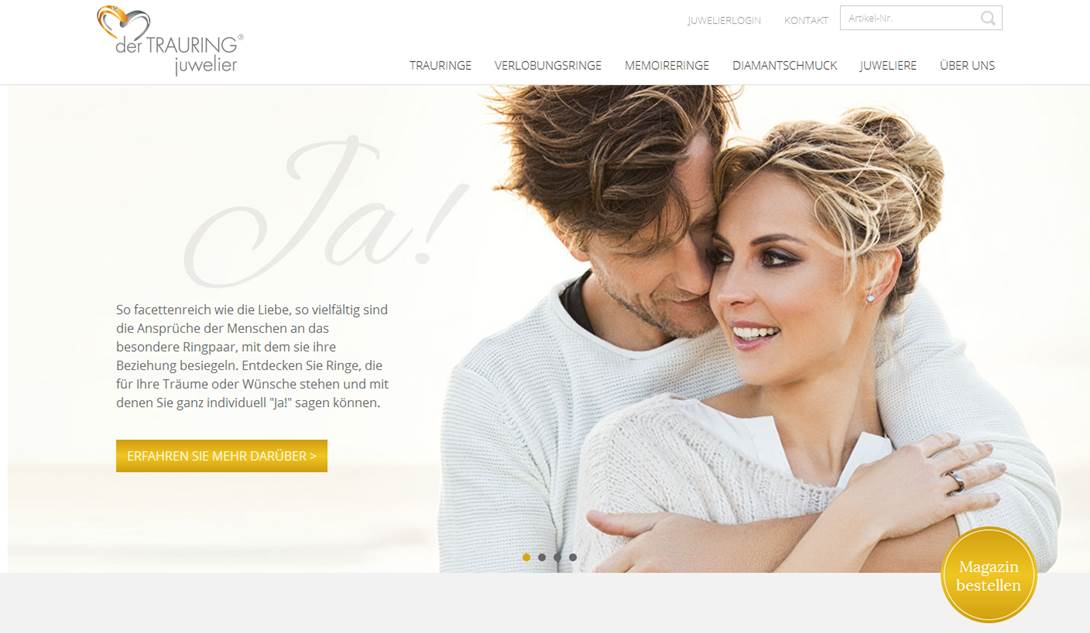 19.01.2016
SpiessConsult supports theTRAURINGjuwelier with its new website
The wedding ring association with over 60 jewellers from all over Germany and Austria relies on SpiessConsult for communication. // The Düsseldorf advertising agency designed the new website of the jewellers' association // Special focus was placed on the textual design
Over 60 jewellers in Germany and Austria work together with the traditional egf manufactory, which has been producing rings since 1933, under the name of TRAURINGjuwelier. The finest craftsmanship combined with state-of-the-art technology serves to fulfil customer wishes for jewellery and rings. In all its collections, egf Manufaktur combines the design ideal of timeless elegance with the highest standards of manufacturing quality.
The Internet presence of the association, which is aimed at dealers as well as end customers looking for the right wedding or engagement ring, should also meet these requirements. SpiessConsult therefore supported the wedding ring association with the implementation of a new website as part of the new brand identity. All texts of the new appearance of theTRAURINGjuwelier were created and implemented by the Düsseldorf consulting agency in close consultation with the employees of egf Manufaktur.
SpiessConsult GmbH & Co. KG is a consultancy in the fields of corporate communications and employee communications based in Düsseldorf. The company offers its clients the entire range of services of an advertising agency and a PR agency. His work focuses on strategic corporate communication for companies, institutions and organisations, the development and management of corporate brands and product brands, corporate design and corporate identity as well as employee communication relating to corporate change processes.
Contact:
Till Conrady
Phone: 0211/550217-244
Fax: 0211/550217-217
E-Mail: till.conrady(at)spiessconsult.de
SpiessConsult GmbH & Co. KG
Düsseldorfer Straße 70
40545 Düsseldorf
www.spiessconsult.de