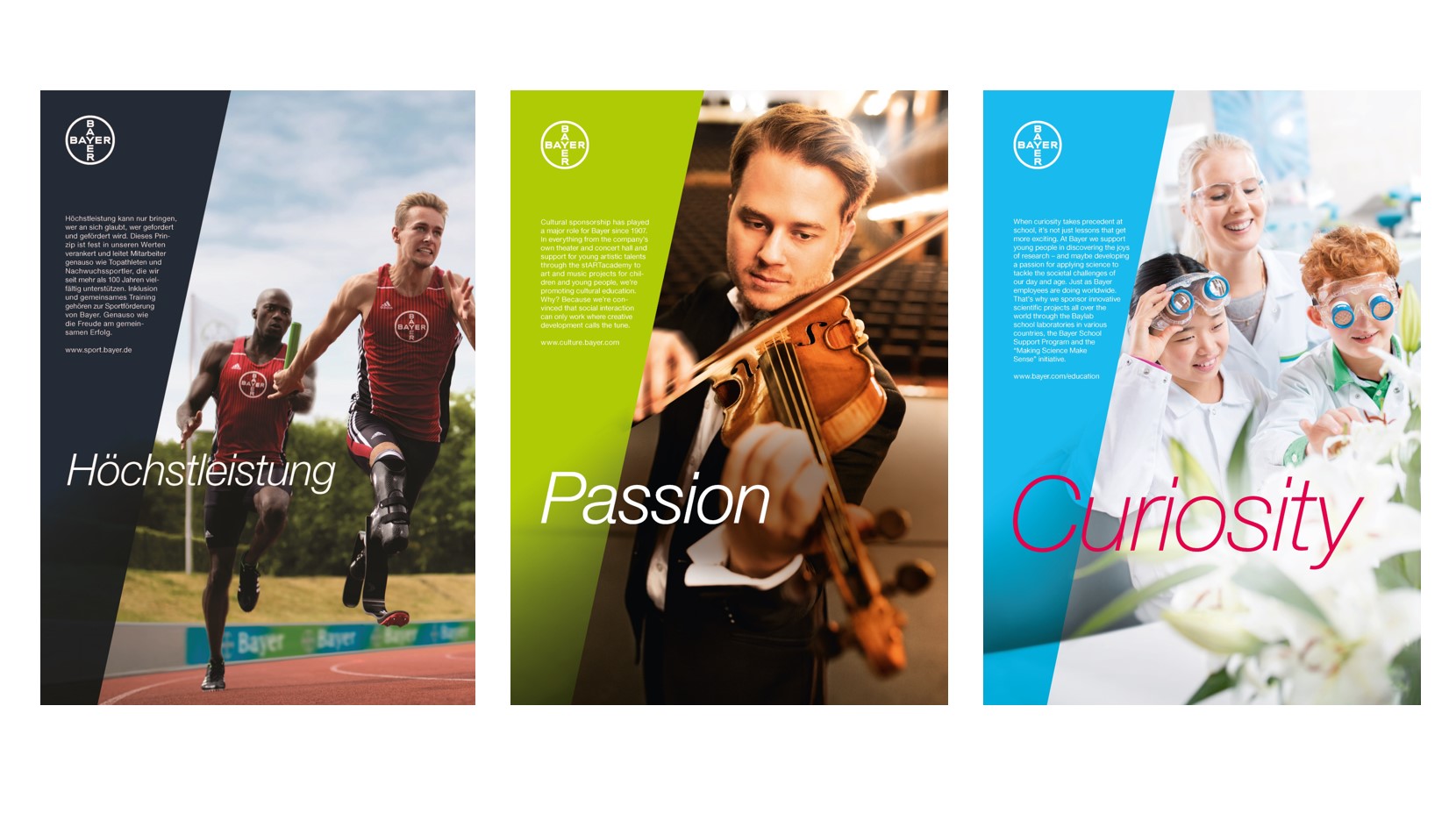 01.02.2018
Curiosity, passion and performing to the max – new CSR visuals at Bayer
Powerful terms are the centerpiece of Bayer's current CSR communication // SpiessConsult designs and implements visuals that show how diverse Bayer's social responsibility activities are.
Bayer is committed to solving urgent social challenges and continuously improving living conditions. This is demonstrated by the new visuals for the Bayer CSR communications campaign that focus on education, culture and sports. Bayer's social commitment encompasses a wide range of activities that have grown over time, including research, health and social activities, and is aimed equally at high performers, promising talents and the local communities in the vicinity of Bayer locations.
In cooperation with the CSR department, the Düsseldorf communications agency SpiessConsult designed advertisements and posters that make one thing clear: Bayer is committed to improving people's lives worldwide – and this means much more than developing outstanding products based on the best possible scientific research.
Bayer contributes to society and assumes responsibility: for large topics, great feelings and strong support. And does this in a striking and full-size format. Terms in large typography show what Bayer's commitment means for individuals.
SpiessConsult GmbH & Co. KG is a consulting agency headquartered in Düsseldorf and focused on the fields of corporate and employee communications. We offer our clients the full range of services of an advertising and PR agency. Our core activities include strategic corporate communications for companies, institutions and organizations, development and management of corporate brands and product brands, corporate design and corporate identity as well as staff communications relating to change programs and corporate change processes.
Contact:
Robert Fuchs
Phone.: 0211/550217-211
Fax: 0211/550217-217
E-Mail: robert.fuchs(at)spiessconsult.de
SpiessConsult GmbH & Co. KG
Düsseldorfer Straße 70
40545 Düsseldorf
www.spiessconsult.de