Europe's largest technical inspection institute makes safety measurable.
An extensive relaunch of the Internet site, the establishment of a new Internet portal, a literature system, brochures and flyers plus an active public and press relations system are only some of the tasks that SpiessConsult has taken over for Europe's leading inspection service for fire protection and security. The basis for this was the development of a VdS corporate story featuring all positioning core messages about the company. SpiessConsult also looked after the further development of the corporate design, including the logo.
Our client:
VdS is one of the world's leading independent and accredited testing and certification bodies for fire protection and security. With decades of experience, VdS is the preferred partner for testing fire protection equipment on site and for certifying products, service providers and management systems. In addition, VdS sets international standards with the publication of comprehensive guidelines and specifications for fire protection and security techniques. It is also a renowned training institution, providing courses and specialist conferences for employees from companies of all sizes and industries. VdS Schadenverhütung GmbH Inspection Services is part of the Gesamtverband der Deutschen Versicherungswirtschaft e.V. (GDV).
Our task:
To push VdS forward and make it better known in all target groups as an important independent inspection service focused on fire protection and security, which is also setting pioneering standards at international level. The basis for this was the enterprise value architecture developed by VdS and SpiessConsult - the VdS Corporate Story, which defines the way VdS sees itself, its positioning and all relevant core messages. In addition to further developing the logo and corporate design, the agency is also involved in compiling a literature system and developing and producing brochures and flyers on the agency's functions. SpiessConsult is also looking after a comprehensive relaunch of the website, building a new Internet portal and supporting VdS in its active PR and press relations and in many aspects of marketing planning.
---
Corporate design / Corporate branding
Modification of the corporate design strengthens its perception
Improved perception of the VdS logo to make it well known in all areas of the industry was the main objective of the design project for VdS. In addition, a new visual language was introduced to serve as a basis for the literature system and future ad themes.
---
New internet pages / Web design / Web development
Central digital platform established for the VdS services
A well structured Internet site with clear menus and an attractive design was aimed at positioning the VdS service offerings in all the relevant target groups. In addition to a detailed description of the company, users can call on a large number of services such as registering for VdS courses. In addition, SpiessConsult produced a special website for professional players from the fields of security and fire protection.
---
Corporate literature / Corporate publishing
Brochures and flyers conform to a stringent system
The VdS literature is very extensive, so that a succinct system had to be introduced for all areas and company levels. All the brochures are gradually being revised on this basis. In addition, a management flyer that is also assigned to the VdS training centre, was produced.
---
Press work / Public relations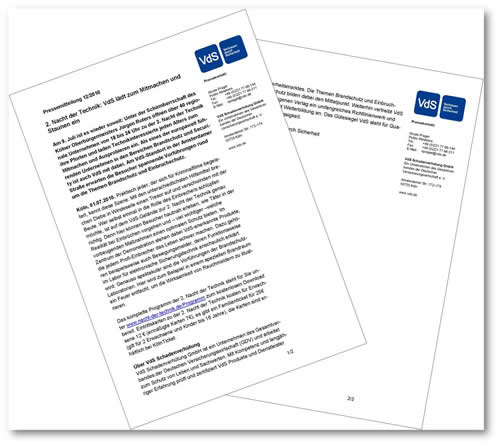 Specific journalistic approach gives VdS access to a broad public
The creation of public awareness for important VdS matters is the task of active press relations. Alongside the lead topics of fire protection and security, other subjects are dealt with that have a strong image-forming effect. The articles appear – depending on the story – both in trade magazines and in the popular press.
---
Event / Trade fair / Live communication
Trade shows with high attention levels
At fire protection and security trade shows, the VdS stand is always an important meeting point for the industry, so that VdS is represented at all relevant trade shows both domestically and internationally. SpiessConsult supports VdS in the design of trade show stands and in staff preparation, for example.
---