Focus on new working worlds – Preparation and control in internal communication
What is meant by new working worlds and new forms of work?
The office workplace planning of the future looks like this for employees: An optimal workplace for what they are doing – instead of a single workplace for all activities. This is the basic idea of new, modern working environments, which are also described with the concept of "Activity Based Working" or "Activity Based Workplace" (ABW).
---
Activity Based Working – The new type of collaboration brings many advantages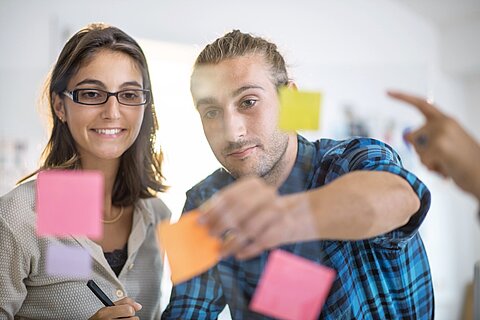 The working environment concept of Activity Based Working facilitates cooperation and increases its efficiency. It creates new, short communication channels and facilitates one-on-one communication as well as the viral distribution of news within the company. It increases the transparency of processes and accelerates teamwork.
The same applies here: Leading by example. This means that the company management and all executives lead the way and set an example.
---
Why are new working environments a topic of communication?
The fact is that employees need a pleasant and inspiring working environment to be productive and satisfied. Professionals and high potentials make the working environment an important factor in their choice of workplace. But many employees are not yet comfortable sitting at a different table in another part of the building every day. This holds a lot of potential for conflict.
At the same time our working behaviour is changing and so is the use of office space. A whole series of people are already working on the move, from home or at the customer's premises. The digitalisation of the world of work and generational change are accelerating this development. It's like that today: Not all employees use a workplace every day. Not all employees need the same workplace on a daily basis because they carry out very different activities. And throughout the year, some of our colleagues are always on vacation or sick from time to time.
Nevertheless, office workplaces are expensive and scarce – and they should be used optimally.
Therefore, new working environments must bring aspects that are apparently difficult to reconcile into harmony with each other. A task for strategically designed employee communication.
Are new working environments and new working models also a topic for you?
Let's work on this together.
Get in touch now