Promoting and supporting innovation projects – through targeted, involving employee communication
What is innovation management?
The success of a company depends crucially on quickly recognizing changes in the economic environment and meeting them with needs-based solutions, but also with modern structures and technologies. The knowledge lead and the innovation potential are among the most important driving forces of the business and also have a very high relevance when assessing the performance and sustainability of a company.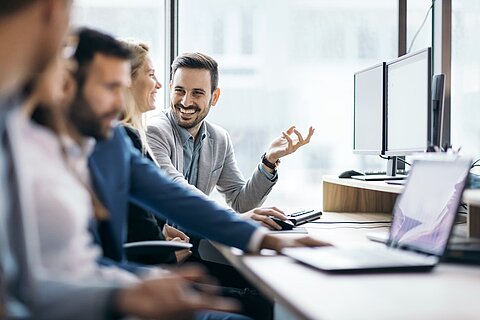 ---
Shaping the future by combining innovation management and communication
Communication management and innovation processes are still insufficiently linked in many companies. This is the result of a study by the University of Leipzig, Institute for Communication and Media Studies.
Therefore, it is important to firmly establish an innovation culture in the company and to specifically raise the innovation potential of employees.
This is achieved through strategically designed internal communication work – communication that, for example, initiates open innovation processes, gives suggestions and impulses for the development of ideas and innovations, leaves room for creativity and thus specifically promotes an innovation culture in the company.
Innovation management: Which tools and programs should employees use in your company? How can the innovation potential be better used?
Together we will find new ways in communication. Talk to us.
Get in touch now