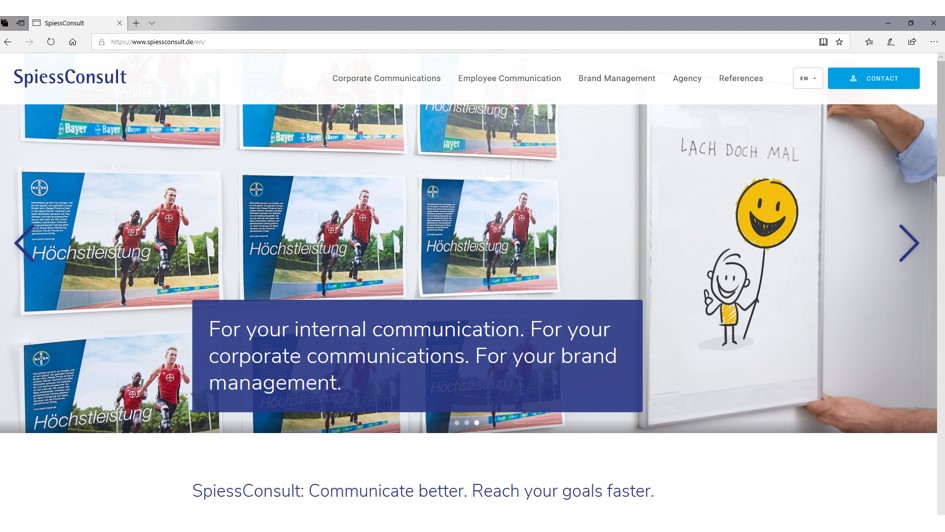 23.11.2018
SpiessConsult launches new website
New website live // Communications, consulting and advertising agency SpiessConsult in profile // Optimized website with focus on work and comprehensive reference presentation
As of today, SpiessConsult has a new business card on the web, developed on the basis of the Typo3 system. It replaces the website developed in 2010 and sets its own accents in design and visual language: the focus is not on individual people, but on our work and the agency as a space for creativity and new ideas and a place for pleasant, humorous, effective work in the best profession in the world: communications :-].
At the heart of the website concept are the three following headings under which SpiessConsult's communications for clients can be structured:
Corporate Communications stands for services in the areas of corporate social responsibility, employer branding, innovation and technology, and reputation management. As part of its integrated external communications portfolio, the agency produces advertising, films, PR, social media marketing, press work, literature, publications and events and, as a full-service agency, looks after the design, content and project management for national and international projects.
Employee Communications covers the entire and very diverse field of internal communications for companies and organizations. Well-trained and motivated employees are decisive for the success of a company. They are often rare and strongly courted. They place high demands on a secure job and on their employer's integrity, transparency and the communicative quality. And they expect answers to the key topics of employee communications: technological changes in the course of digital transformation, change processes in connection with innovations, the introduction of new working environments and working models, as well as the keyword compliance – in the tension-filled arena of ethical behavior on the one hand and constantly increasing competitive pressure on the other. In the field of internal communications, the agency also develops content and design, intranet content and films, as well as organizing integrated campaigns, including international ones.
Brand Management describes the systematic, integrated and sustainable handling of the fields of brand development / brand management, corporate identity and corporate design. The brand is one of the most important assets any organization has. Many corporations - and more and more medium-sized companies – therefore attach great importance to coherent and consistently applied corporate design and corporate identity concepts. They also ensure that all brand parameters are used consistently worldwide by setting up electronic brand management platforms – hand in hand with service providers such as SpiessConsult. The rules and, in most cases, extremely complex contents are prepared in a practice-oriented way and can be quickly applied by all communication managers.
In addition to these three main topics, visitors to the Agency section of the website can find out more about what and how we think about communications, what drives us, what is important to us, how we work, what's new, and who the people are behind the name of Spiess, which has stood for strategic communication consulting and successful advertising since 1970.
Last but not least, in the References section you will find various examples of what SpiessConsult has created over the last 14 years.
SpiessConsult GmbH & Co. KG is a consulting agency headquartered in Düsseldorf and focused on the fields of corporate and staff communications. We offer our clients the full range of advertising and PR services. Our core activities include strategic corporate communications for companies, institutions and organizations, development and management of corporate brands and product brands, corporate design and corporate identity, as well as staff communications relating to change programs and corporate change processes.
Contact: Robert Fuchs
Phone: 0211/550217-211
Fax: 0211/550217-217
E-Mail: robert.fuchs@spiessconsult.de

SpiessConsult GmbH & Co. KG
Düsseldorfer Straße 70
40545 Düsseldorf
www.spiessconsult.de